Here are the two awards I offer.
The first is for "were" sites in particular, wether you be
werewolf, werecat, werefox or werebunny,
the site must deal at least in part with "real" wereness.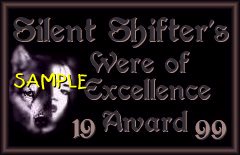 The second award is for sites that are just a bit shadowy, a tad on the darker side of life. Nah, I don't mean satanic, or Mansonites...the sites I will be giving this award to will have a special "feel" to them. If you have one you know what I mean...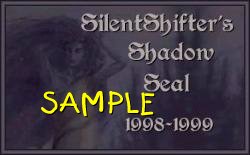 If you would like to win one of these awards, first you MUST sign my guestbook (Traveler's Tales). I will check!!! Second, send me an email with your name or nicknmame, the url of your page, a SHORT description of your page and your email address. I'll let you know within a week if you have won an award.
Thank you.
---